How Makers' Muse is revolutionizing the education system?
Makers' Muse was formed with a mission to boost creation at the grass root level. They are making this happen with the help of technology and introduce students to technologies like 3D printing, IoT, Robotics, AI and coding. All this, to provide a desired approach to learning that aligns itself with the emerging fourth industrial revolution. This will dramatically change the way we relate to one another, live, work, and educate our children. These shifts are enabled by smart technologies, including artificial intelligence, the Internet of Things, big data, augmented reality and blockchain.
Makers' Muse has 4 modules which is changing the way to educate your children:
It's a technology cum makerspace lab where students will have access to state of art tech like 3D Printing, IoT, Robotics, coding & AI. With the help of their adaptive curriculum students learn every concept by doing it. Trainers ensure proper understanding of concepts in students through one-on-one sessions, webinars, workshops, competitions, exhibitions, quizzes, assignments and much more.
The unique thing they are bringing here is the integration of academics with real life. This will help students relate theoretical concepts with real life situations.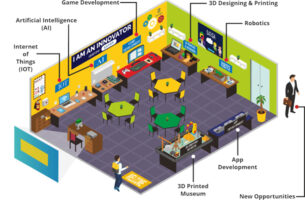 2. DIY (Do It Yourself) Kits:
Do it yourself" ('DIY') is the method of building, modifying, or repairing things by oneself without the direct aid of experts or professionals. DIY Kits help your kids in increasing creativity, improving problem solving skill, learning motor coordination and about spatial arrangements, allows kids to be more active and even helps to save money.
They are making sure to develop creativity and technical exposure in kids by providing DIY kits in any corner of India based on Internet of Things (IoT) and Robotics with ready to assemble components and an easy to understand DIY manual. Kids can download their app from Google Play or App Store, learn DIY courses for free and can order DIY kits directly from their app which will be shipped at their doorstep.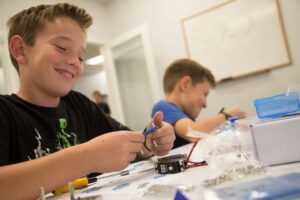 Download app from below links:
Learning space or learning setting refers to a physical setting for a learning environment, a place in which teaching and learning occur. They have their own E-Learning platform where students can register and can buy any course in which they are interested. Due to pandemic everything is digitized and so as education. Hence they are focused on providing top notch technology and designing courses with regular tests, notes with end to end mentor guidance.
The following courses are available on their E-Learning Platform:
AI and IoT
Python Programming
Getting started with Robotics
Game Development
App Development
3D Printing
Design Library
Make anything using 3D Pen
3D Designing using Fusion 360
3D Designing in TinkerCAD
They are providing Technology Workshops for Kids and Skill Development Workshops for Professionals.
(A) Technology Workshops for Kids: They help kids to grasp knowledge beyond regular school education and are striving to provide an opportunity to students to develop problem-solving skills through project based learning kits. Contemporarily, children are relying on technology for the majority of works including play, creativity, imagination and more; to achieve optimal development.
Our technology workshops for kids includes:
Drone
RC Plane
3D Pen
3D Designing and Printing
Coding
Robotics
IoT
(B) Skill Development Workshops for Professionals: Their workshops introduce participant to industrial 4.0 technologies. It's a great way to teach hands-on skills because it offers participants a chance to try out new methods and fail in a safe situation. They have a wide variety of workshops from learning new tech to product development by experts.

Participants receive guidance from industrial experts in the following industrial 4.0 technologies like Arduino, Raspberry Pi, Artificial Intelligence, and 3D Printer Construction which are increasingly being applied in various business operations to improve efficiency.