Technology Workshops for Kids:
Contemporarily, children are relying on technology for the majority of works including play, creativity, imagination and more to achieve optimal development. Our technology workshops for kids includes: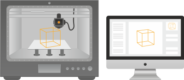 Our Workshops and Training Programs:
Our curriculum is designed by the industry professionals which will help students to become future proof by gaining hands on experience on Industrial 4.0 tech like 3d printing, 3d designing, IoT, Robotics etc..
Under our partnership with various industries & organizations, we are running a skill development program to level up our future generation.