Technology Workshops for Kids:
Contemporarily, children are relying on technology for the majority of works including play, creativity, imagination and more to achieve optimal development. Our technology workshops for kids includes: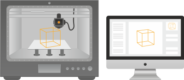 WORKSHOPS FOR PROFESSIONALS
Skill Development Workshops for Professionals:
Our workshops introduce participant to industrial 4.0 technologies. It's a great way to teach hands-on skills because it offers participants a chance to try out new methods and fail in a safe situation. We have a wide variety of workshops from learning new tech to product development by experts.
Participants receive guidance from industrial experts in industrial 4.0 technologies which are increasingly being applied in various business operations to improve efficiency.